When it comes to negotiating, especially in the sales world, too often, companies are simply not prepared in any facet. People tend to think negotiation is only a soft skill. Either you got it, or you don't. This way of thinking is why companies with no formal negotiation processes or training in place show a 63 percent decrease in net profit. Investing in negotiation training is one of the best ways to equip your team with the skills and strategies they need and ensure your company isn't leaving money on the table or wasting time with deals that fall through.
In this article, we'll go over the impact that negotiation training can have on sale cycles and your company overall.
Why Is Negotiation Training Important?
There can be some speculation and resistance to implementing negotiation training in the workplace. Some individuals can hold a little bit of an inflated view of their own and their team's ability as negotiators. There are many benefits to investing in negotiation training. It helps build and further enhance the base skills your team already possesses and introduces them to processes and strategies that can help streamline the sales process.
Although negotiation can be considered a personal skill, million-dollar deals are not solved by soft skills alone. Negotiation training also helps teach your team strategies that help streamline processes that move potential deals to close faster. By utilizing certain strategies like question funnelling, concession planning, negotiation strategizing and segmentation it helps mitigate lots of the back-and-forth team's experience throughout the entire sales cycle.
As the negotiation environment evolves and changes, so must your approach. Negotiation training allows your team to be able to recognize, adapt, and create favourable agreements while developing and fostering long-lasting professional relationships.
How Can Negotiation Training Influence the Sales Cycle?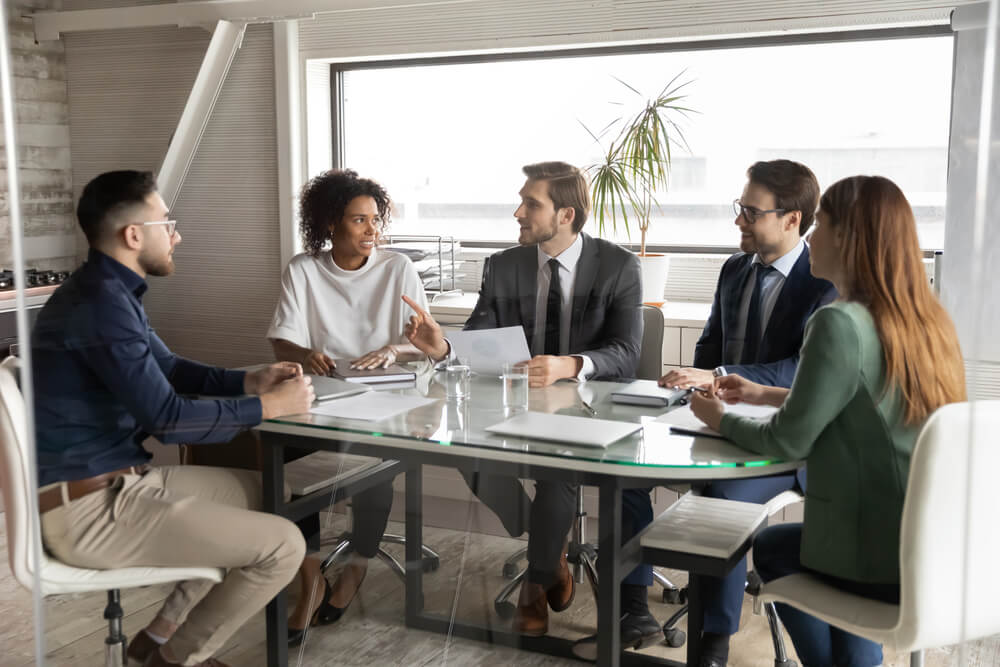 Negotiation training provides your team with the tools to be able to confidently move through the sales process and not get lost within it. Simply put, negotiation training saves you time. It equips them with the skills to confidently put together essential components like negotiation strategies, be able to recognize and pull more value from conversations, and interactions then transform information into adaptive, favourable solutions that are agreeable to both parties.
Negotiation training will also teach your team the following:
Question funneling and development

Concession planning and defense

How to develop alternatives and combat manipulation

How to improve your negotiation skills through roleplaying

Effective methods for using the power of silence and dramatic pause

Confident body language and voice tonality
All of these skills play a part in maximizing the effectiveness and efficiency of how a potential customer moves through your sales process.
Build More Confident And Effective Negotiation Strategies
One essential component that negotiation training teaches is how to prepare and plan a successful negotiation strategy. This is often an underdeveloped and overlooked skill. Planning and preparation sound like an obvious part of a negotiation strategy, but 75 percent of companies have no formal negotiation planning tools.
By having a negotiation strategy in place it saves you valuable time and supports your team better. There is a decreased likelihood of communication being delayed as people wait for answers or approvals. A solid negotiation strategy set the precedent for the trajectory of the deal.
Improving Adaptive Skills Improves Performance
Negotiation training allows for more flexibility and adaptability when working with potential clients or customers. Many of the old hard-nosed tactics of the past, although familiar, need to be able to be manipulated differently. For example, negotiation training allows for more creativity when proposing alternative solutions that consider other business objectives instead of focusing on certain elements like price.
In addition, negotiation training also enhances the communication style and approach of your team. Utilizing and implementing communication skills like active listening allows you to uncover what the prospect is truly worried about, and then you address and alleviate their doubts. Being able to apply different communication methods allows your team to establish a more credible and trusting relationship with prospects, lowering the likelihood of countless objections in the closing process. 
Minimizes The Chances of Conflicts or Disagreements
Negotiation training plays a pivotal role in reducing the chance and length of conflicts and disagreements that can potentially bubble up during the final stages of the sale process. It provides your team with enough knowledge and expertise to carefully diffuse situations without agreeing to onerous terms or compromising the deal. Through effective negotiation training, your team will be able to employ a multitude of skills that allow them to empathize with the prospect's needs, address objections, and offer mutually beneficial solutions. 
Negotiation training is the compass that guides salespeople through the potential minefield of disagreements, steering them towards successful closings and lasting, positive client relationships.
Achieve More Efficient Closes by Investing in Negotiation Training
In the fast-paced world of sales, where every moment counts, investing in negotiation training for your team is the strategic key to achieving more efficient closes. By equipping your team with the skills and knowledge needed to navigate any kind of deal, you not only expedite the closing process but also ensure that it's done with care and precision. 
At Negotiations Ninja, we are experts in negotiation and conflict resolution. We have helped train numerous businesses and organisations in how to hone and improve their persuasive abilities and negotiation skills. We take pride in being industry leaders who genuinely care about helping our clients succeed.
So, don't wait empower your team with negotiation training, and watch your efficiency soar, delivering stronger results and happier clients. Contact us today to learn more about our negotiation training.